You may have reached that point when you are tired of the same dull office design, and looking for a change to get some extra motivation and increase your productivity in business.
But it's not easy designing an office and it depends on the location, current layout, number of employees, etc.
Let us begin with the:
Office refurbishment checklist
You may wonder why use a checklist, why not just take all the necessary items and redecorate the whole place. You can do this , but if you want to proceed without making a 'checklist' it is your call but be advised it can mess up the refurbishment process. Why? Because without a 'checklist' you may have potential chances of having incomplete tasks, waste money, time and other resources and most importantly, you will lose the consistency.
Office refurbishment to-do list
Step 1. What is the reason for office refurbishment
Step 2. Develop a project team
Step 3. Find out what the workplace is most suitable for
Step 4. Speak to an office refurbishment company
Step 5. Decide the budget and don't alter it.
Step 6. Have your refurbishment partner with you during the project
Step 7. Select the right furniture for the office
Step 8. Manage the handover duties and tasks
Step 9. All set to move in
What are the reasons for the refurbishment: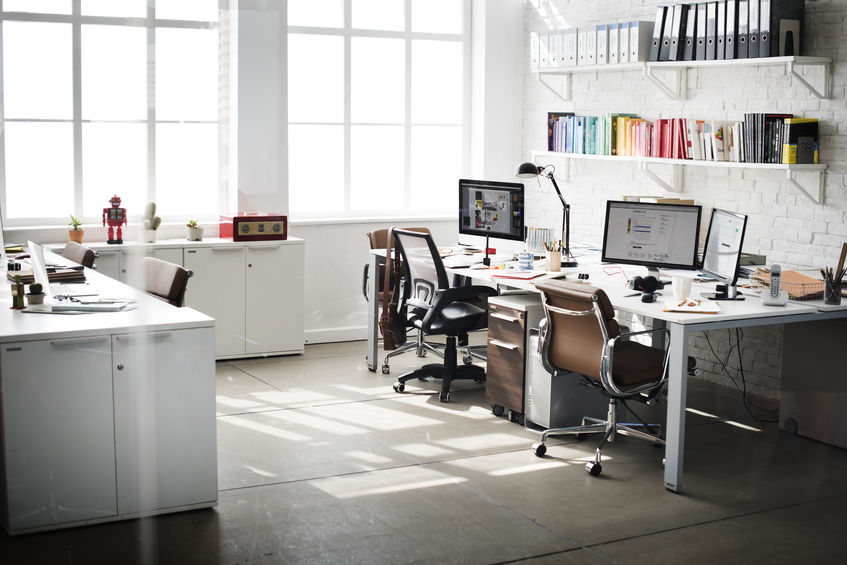 Contemporary Room Workplace Office Supplies Concept
Why' has to be a word; it reminds you of what you have planned and what is your vision. The office you are working in right now may be old and a depressing place to work.
Or you are the kind of boss that wants to boost your staff's productivity and creativity; you may be concerned about your employees' mental and physical health, your office may not have enough space, the image in the market does not match your office workplace and many other reasons.
This has to be the prior step in your 'checklist' as this will only motivate you in refurbishment by keeping your vision and outcome in front of your mind.
Reasons for an office refurb?
Here are some of the reasons, and benefits of refurbing the office.
The improved focus of the team
Team morale
Create more space
A better environment for your clients
More space for staff
Fit in more with your company branding and image
Match the current market you are in
Create a boardroom/meeting room
More facilities for the staff
Downsizing the space
Environmental reasons/being greener
Legal reasons / is their legal reasons the office need to be changed
Attract passing trade
Health and safety
1. Develop a project team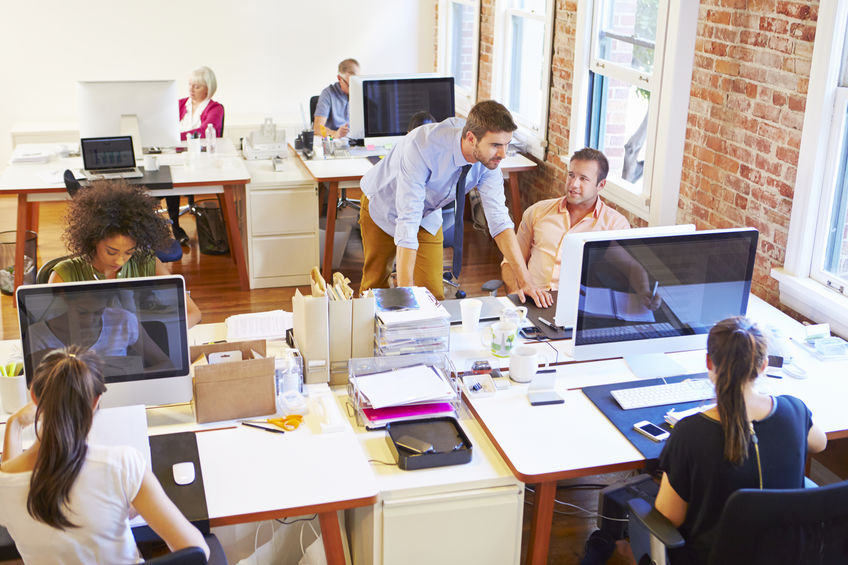 Wide Angle View Of Busy Design Office With Workers At DesksOnce you have made it clear and, figure out your reasons for refurbishment, collect your well-wishers and members who can manage your project's budget, keep an eye on the process. This team can include members from the following department-
HR
IT
Marketing
Operation
PA's
Finance
Facilities
Every team from the different departments will make it easier to carry out the refurbishment and take less of your time.
2. Time to discuss with your vision
Once you have established your team, it is now time to discuss with your vision and why you want to make these changes.
Ask your project team for opinions and more creative ideas to make your workplace more interesting and functional.
Involving your project team in this step will save you a lot of energy, time and will get the job done quicker.
3. Speak to an office refurbishment company
The reason it is and should be the third step is that the sooner you can find the designers and builders. You can create more time for modifying the setup if required, explaining newly installed technology and adjusting with the new workplace, etc. takes time.
After you have successfully found the company make sure to soak as much information as you can. And for that, some questions below might come in handy.
Q. – Do you have comprehensive knowledge regarding office structure and furniture?
Q. – Who have you served before this project?
Q. – Do you charge any extra fees after the project is completed?
Q. – Can you allow us to see your previous work?
Q. – Are you committed to finishing the work on time?
These questions are just examples to get you the idea, and once both parties have built trust, it is time to step next, which is:
4. Decide the budget and don't alter it
After you have assigned a refurbishment partner from the company, discuss with him\her about the possible expenditure.
Now make sure and keep in mind that the office area, either independent or in a building will have different factors that can affect the cost of refurbishment.
Some of those factors are:
Structure of the building
Structure of the building
Cost of upgrading new technology can vary
Ventilation system, heater & cooler and other amenities can affect the cost as the system may run from different parts of the building.
There may be some other factors as well. So make sure you summarise all the aspects and decide a budget beforehand. Your job now is to work in harmony with your refurbishment partner to get the desired results within your budget.
5. Work closely with your partner
As mentioned before you must be in harmony with your refurbishment partner, do not hesitate to ask for any change or almost anything you don't see to be going right, as planned.
It is your investment, and the partner is also chosen by you so make sure you both have the same vision for the end result.
6. Select the right furniture for the office
Here is what you are going to need for your new and fresh office.
Cozy sofa for any informal meeting or collaboration.
An ergonomic chair for staffs
Long table for quick standing meetings
A couple of soundproof or private booths for employees to concentrate and phone calls.
Besides this furniture, you can add according to your office space and budget.
7. Manage the handover duties and tasks
Now, as the task is completing you may also get excited about a changing environment.
Collect your project team and handover to the new space, make them explore the newly built office and ask them to find out any minor or major issues that could be a potential risk.
Do not ignore the detected issue, and try to make the office a perfect workplace for the staff.
8. All set to move in
Let us end this step with a small party to the staff, all partners and team members for the newly installed office.
This was the office refurb 'checklist', let us have a quick recap a highlighting all step in three points.
What will you need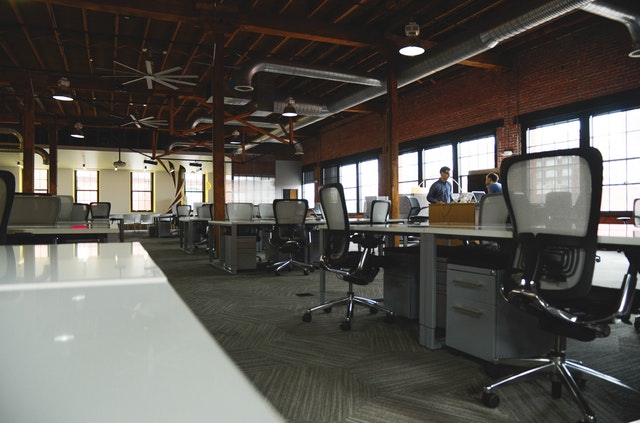 The first thing that you will need is a reason' for refurbishment. Then you will have to create an office refurb 'checklist' that will have a small tick box for keeping you in a track. Here is how you can make sure you have the right 'checklist' for you-
Identify as many chances of failure as you can.
Ask for help from others
Create a simple' checklist or to-do list.
Test the 'checklist' visually
Refine the to-do list' or 'checklist'.
Create a wish list
A wish list is a list of the company's desires or wants that is written down and shared with the staff for making them aware of the upcoming changes.
Speak to an office refurbishment company
You cannot do all the labouring and designing alone without seeking professional and experienced help. Reach out to the office refurbishment company for turning your refurb vision into reality.
Conclusion
We hope this article was a helpful one and following this article and making the best move will provide you with the desired outcome for your office.
---